Introducing our composers for 2017-18
Our Fanfare participates gathered at Sydney Grammar School for our first workshop session on July 15. The day included introductions and workshopping their compositions with our mentor composers Nick Vines and Lyle Chan. Each participant prepared a 5 minute introduction and you can view online.
… Click here to meet our young composers.
… Click here to view the gallery from the day.
Art Gallery of NSW Resonate Series 
As part of the Fanfare Competition the young composers have their works broadcast at a Resonate concert which includes a Q&A session. This month Callum O'Reilly's Fanfare was broadcast at the Emma Pask Bands' concert. We loved Callum's question for Lyle – hear the interview again on our FB:  …Click here.
Coming up in August we will hear Marcus Kha's fanfare at the Sydney Youth Orchestra TangoOZ concert. You can book to attend, here.
In the press 
We've had a terrific media response to this year's participants and we love to see our young composers being acknowledged. Read Hannah Hunt – In short, quite an achievement from the Geelong Advertiser;Caitlin Buchan – Composer Caitlin takes the prize in the Bendigo Weekly and Teen composer's work recognised​ in the Bendigo Advertiser. Congratulations to Sam Weller, who is the first recipient of the Sydney Youth Orchestra's Conducting Fellowship. Great work!
ASME Conference 
We recently attended the Australian Society of Music Educator's (ASME) Conference held this year at RMIT in Melbourne. This was the 50th Anniversary Conference – Uniting Voices and it was great to hear from music educators and other partner organisations on their motivation and the programs being implemented into classrooms.
Cool Australia
Through our parntership with Cool Australia we will have new resources in 2018 to help out in the classroom for teachers and students. They are FREE to download and if you have any feedback we would love to hear from you, email us.
Fanfare workshop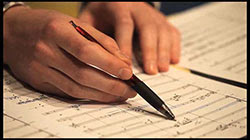 Thank you to the students and parents who attended our workshop to discuss their fanfares held on July 22. Here is some feedback from the day:
– Thank you very very much for offering us such high standard of free workshop with two highly acclaimed composers who helped us. It was also so inspiring to hear the other high quality works. Mum attending the day.
– It was a great experience to be able to hear the quality of others' compositions and to be able to get feedback from two excellent composers. Student attending the day
Congratulations Lyle Chan
Congratulations to Lyle Chan on his compositionSerenade being selected as a finalist for Orchestral Work of the Year at this year's Art Music Awards presented by the Australian Music Centre and APRA-AMCOS.  …See the complete list of finalists.